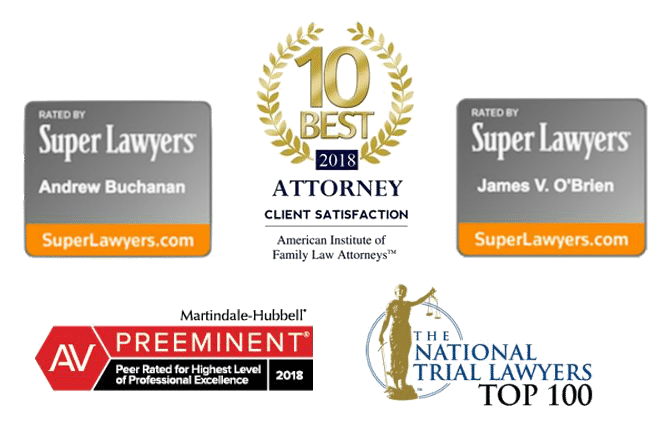 St Louis Car Accident Specialists
You may have to go to court if you're involved in a car accident and the other driver is uninsured or doesn't have insurance to pay for all the damage.
Buchanan, Williams & O'Brien have been a trusted law firm serving Missourians for over 40 years.
Committed to always treating clients with courtesy & respect
Benefit from the unrivaled experience of our statewide team of lawyers
Trust the proven success we've delivered to clients for decades
How Car Accident Cases Are Resolved
Car accidents are an everyday occurrence in the United States. The National Highway Traffic Safety Administration (NHTSA) says someone is injured in a car crash every 10 seconds.
About 95% of lawsuits are settled outside of court, which is also true for car accident cases. The remaining 5% of lawsuits go to trial. About 90% of personal injury trials are ruled in favor of the plaintiffs.
Most car accident cases are resolved outside of court primarily to avoid the expense and time associated with court cases. Other reasons why car accident cases settle out of court are:
The plaintiff receives their money sooner if a claim is settled out of court

The outcome of a court case is unpredictable, and the car accident victim risks having a judgment against them and going home empty-handed

Insurance companies prefer to settle cases rather than go to court

The quicker a car accident case is resolved, the quicker plaintiffs can resume their lives
Nonetheless, there are times when court hearings before a judge are the only option to resolve a personal injury claim.
When Does a Car Accident Case Go to Court?
Some instances in which taking your car accident injury case to court makes sense.
1. When the Fault of the Accident Is Questionable
Sometimes, the driver who has caused the car accident denies any fault or wrongdoing. The question of fault is dealt with differently depending on whether you reside in a state which is a 'fault' state or a 'no-fault' state.
In a fault state, the case is made based on which party caused the accident. The party who causes the accident must pay for damages. In some cases, you may even be responsible for your accident if you are deemed to be at fault, even partly. This affects how much damage car accident victims stand to receive for their injuries.
In some states, a police officer report may suggest which party is at fault. Still, an insurance adjuster often comes to their conclusion on the question of fault.
No-fault states require everyone to have insurance coverage to which they can make car accident claims regardless of fault. The amount of compensation paid becomes a matter between two insurance companies to resolve.
2. The Insurance Company Is Offering an Inadequate Settlement
Sometimes, the insurance company refuses to pay the injured person any compensation or an inadequate amount for the injuries suffered.
Before deciding to court, you may want to negotiate with the insurance companies to see whether you can get close to the compensation you deserve without going to court.
3. Complex Cases or When There are Serious Injuries
In complex cases where the accident victims sustain grave injuries or there is an overwhelming amount of evidence, a court can provide the means to resolve these cases.
A court can also award larger settlement figures than insurance companies for complex cases.
These cases often involve wrongful deaths or extreme negligence.
If you are considering taking your car accident case to court in Springfield, Missouri, speak to our dedicated car accident attorney in Springfield and take advantage of our free consultation offer.
Confused about car accidents in St Louis? We are here to answer your questions.
What Happens When Car Accident Cases Go to Trial?
When car accident cases go to trial, the court becomes a platform where parties in conflict can present their case fairly. Court proceedings typically involve a judge, attorneys, and the jury.
Jury Selection: There are laws and procedures followed for jury selection. The jury contains twelve persons selected randomly from the electoral register. This process involves the participation of both sides.

Opening Statements: Lawyers from both sides present their opening statements. The plaintiff or the person who has filed the car accident lawsuit gives the first opening statement. The opening statement outlines the evidence to the jury and gives them an idea of what to expect during the rest of the court hearing. The attorney for the defendant then makes their opening statement, usually defending the claims made by the plaintiff or making counterclaims.

Presenting of the case by your attorney: Your car accident attorney presents all the evidence supporting your claims about the car accident to the jury. Examples of evidence include testimonies from witnesses, experts, medical professionals, and your testimony. The opposing attorney cross-examines these claims and objects to any evidence they deem irrelevant.

Response or challenge of the case by the other party: The opposing party then presents evidence to the jury to discount the plaintiff's claims. However, the plaintiff's attorney will have the chance to cross-examine any witnesses and challenge the evidence brought forward.

Closing Arguments: Your car accident attorney uses this opportunity to try and convince the judge and jury why they should find in favor of the plaintiff and award the total compensation sought. The opposing side then puts forward their argument on why the jury should find for them instead.

Verdict: The jury deliberates privately with guidance from the judge and returns with a verdict in favor of one party.
Car accident court proceedings can be a complicated process, so you should seek the services of an experienced car accident lawyer. They will ensure that your car accident court case flows smoothly.
How Long Does a Car Accident Trial Last?
Car accident trials can be over in one or two days from when jury selection begins to when the verdict is given. However, some cases can take longer if they are complex or appeals are made.
How Can a Personal Injury Attorney Help You?
Car accidents often lead to substantial medical bills, loss of earnings, and potential long-term effects, making it crucial to seek appropriate compensation. A personal injury attorney can provide invaluable assistance in such cases. Here's how:
Understanding Legal Processes: Personal injury attorneys are well-versed in the legal terminologies, laws, and procedures related to car accidents. They can guide you through the complex legal processes, ensuring you understand every step.

Negotiating with Insurance Companies: Professional attorneys have experience dealing with insurance companies and can effectively negotiate for a fair settlement on your behalf.

Evaluating Damages: They can help you accurately calculate the total damages you've incurred, including medical expenses, lost wages, and emotional distress, to ensure you demand a fair amount.

Representing in Court: If your case goes to court, a personal injury attorney can represent you, arguing your case effectively and seeking the best possible outcome.

Saving Time and Effort: With a personal injury attorney handling your case, you can focus on recovery while they take the legal aspects of your case. They deal with the paperwork, gather evidence, interview witnesses, and handle all the legwork.
A personal injury attorney can greatly impact your car accident case. An experienced lawyer will fight for your rights and ensure you get the compensation you deserve.
Contact an Experienced Car Accident Lawyer
Most car accident victims don't realize the magnitude of their legal rights. If you're considering filing a car accident case in Springfield, Missouri, contact our experienced personal injury lawyer at Buchanan, Williams & O'Brien Lawyers to schedule a free consultation.
We understand the complexities of personal injury law, and our attorneys have years of experience helping clients get the compensation they deserve. We will fight for your rights and ensure you get justice. Contact us today to learn more!
At Buchanan, Williams & O'Brien Lawyers, we understand how difficult it is for accident victims to cope with unexpected medical bills and losses from the car accident. That's why we provide free consultations and thorough case evaluations to ensure our clients get comprehensive legal representation.
Our attorneys will listen to your story, review the evidence, and assess all legal options available. We'll then provide the best way to proceed with your case and ensure you get the compensation you deserve.
Don't wait – if you have been injured in a car accident, contact Buchanan, Williams & O'Brien lawyers for experienced legal representation. Our attorneys will fight for your rights and help you seek maximum compensation for your losses. Get in touch with us today to schedule a free consultation!