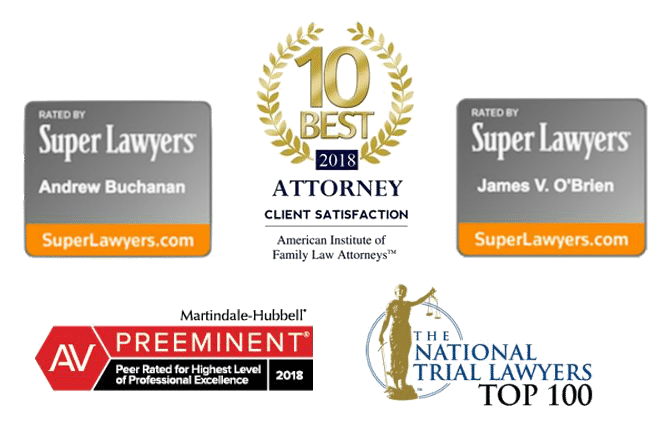 St Louis Wrongful Death Attorney
A St Louis wrongful death lawyer may be able to help if you've lost a loved one in an accident.
Buchanan, Williams & O'Brien have been a trusted law firm serving Missourians for over 40 years.
Committed to always treating clients with courtesy & respect
Benefit from the unrivaled experience of our statewide team of lawyers
Trust the proven success we've delivered to clients for decades
When Should You Hire a St Louis Wrongful Death Lawyer?
Missouri's wrongful death statute defines wrongful death as "the death of a person that results from any act, conduct, occurrence, transaction, or circumstance which, if death had not ensued, would have entitled such person to recover damages in respect thereof." In other words, under Missouri law, a wrongful death occurs if someone has died due to another person's negligence or an intentional act.
That means if the death of your loved one was caused because of someone else's negligence or intentional acts, the survivors could file a wrongful death claim. They could seek damages on behalf of the deceased person, such as pain and suffering they might have experienced, as well as compensation for their own loss.
People and companies who don't take responsibility and protect the safety of others are considered negligent if their actions or inactions caused an accident. In order to prove that someone was negligent, a lawyer has to show that certain individuals or a company had failed to honor a duty of care they owed to a deceased individual, and that failure caused death.
An Experienced Wrongful Death Attorney in St Louis Can Help
Losing a loved one is never easy. However, knowing that it could have been prevented can only make things worse. Although money can never replace a person you've loved, you can hold those at fault accountable for their actions.
Buchanan, Williams & O'Brien are the St. Louis personal injury and accident attorneys with the experience you need to get the results you want. We have been helping individuals who have been injured by the negligence or wrongdoing of others for over 40 years, and we will fight aggressively to recover the damages for those individuals who are owed by law.
Wrongful Death Lawyer St Louis: Getting the Damages You Are Owed
A wrongful death lawsuit can be filed for behaviors that would have resulted in a personal injury lawsuit had the victim survived. Although a monetary settlement can never replace your loved one, it can take some of the immediate worries (such as how you are going to pay the rent without your loved one's support) off of your hands during a difficult time. A settlement can be considered an unfortunate "worst-case scenario".
In a wrongful death case, the death may occur in many ways, including:
Unsafe product or property
Car accident
Bicycle or motorcycle accident
Slip and fall accident
Catastrophic injury
Construction accident
Wrongful death claims can be filed against an individual as well as against a company. For example, vehicle accidents can occur due to the negligence of other drivers. If they don't pay adequate attention while on the road, that can cause fatal vehicle accidents.
But, if your loved one has died due to the injuries suffered in a truck accident, the wrongful death claim can be filed against the liable party and the trucking company as well, depending on the circumstances. Since the rules are complex, discussing the issue with and seeking assistance from personal injury attorneys can help.
Retain an Experienced St Louis Wrongful Death Lawyer
Choosing the right St Louis law firm and an experienced wrongful death lawyer is an important decision. If you have lost a loved one due to the injuries suffered in an accident, hiring compassionate wrongful death lawyers who know how to handle these types of accidents and Missouri wrongful death cases is vital for obtaining adequate compensation for the family.
Confused about Wrongful Death in St Louis? We are here to answer your questions.
Your Wrongful Death Lawyer St. Louis Knows How Much Time You Have to File a Claim
The state of Missouri has a deadline for filing a wrongful death claim, like most other states. In St. Louis, MO, a wrongful death lawsuit has to be filed within three years of the date of the decedent's death. If the lawsuit is filed later, the court will not consider it.
This statute will trump the Missouri medical malpractice statute of limitation, which is two years from the date of the medical negligence act. So if your loved one died due to medical malpractice in Missouri, family members have three years to file wrongful death suits. If, however, medical malpractice doesn't result in death, the statute of limitations for filing a personal injury claim is 2 years.
The Missouri wrongful death statutes may vary based on the cause of death. Also, bear in mind that there are exemptions to the wrongful death statute of limitation like the discovery rule. For example, if the cause of death is not known immediately, the three-year deadline would start on the date when a reasonable person would have discovered the cause of death. Consulting skilled St. Louis wrongful death lawyers as soon as you suspect wrongdoing or an error has caused your loved one's death would be beneficial.
An experienced wrongful death lawyer in St Louis Missouri will advise you as to your rights, as well as ensure you file your wrongful death claim in a timely manner. Law firm Buchanan, Williams & O'Brien provides legal representation for personal injury and wrongful death claims to clients in St. Louis, Brentwood, and the surrounding area.
Missouri Wrongful Death Statutes: Who Can File a Wrongful Death Lawsuit?
Missouri Revised Statutes (section 537.080) states who can sue the liable party and seek damages. Three categories of plaintiffs are entitled to bring a wrongful death suit in this state under Missouri law. So, a wrongful death claim may be filled by:
The surviving spouse, children, or other surviving family members, including the father or mother of the deceased.
The sister or brother of the deceased person or their descendants who can establish suffered loss because of their loved one's death.
While the surviving spouse, parents, children, and grandchildren, regardless of whether they are adopted or not, are in the first category, the decedent's siblings, such as nieces or nephews, are in the second category of potential plaintiffs.
Suppose there is no one entitled to file a wrongful death claim. In that case, the claim can be filed by a legally appointed representative or a plaintiff ad litem. That plaintiff has to be a suitable person, competent to prosecute, and whose appointment was requested and approved by the court.
The personal representative of the deceased's estate can also file a wrongful death suit. Both personal representative and the plaintiff ad litem are in the third category of plaintiffs entitled to file a suit in St Louis, MO.
Since MO wrongful death laws can be complicated, consulting Missouri wrongful death statutes specialists can be helpful. Lawyers from BWO with the knowledge of state regulations can improve your chances of receiving compensation for your wrongful death claim and direct you toward the best outcome for your situation.
How to Find a Wrongful Death Attorney in Saint Louis, MO
When searching for wrongful death lawyers in St Louis, MO, it's crucial to find those with ample experience and credible reputations. It is also vital to find out how much time they have to investigate your case thoroughly and how successful they have been in these types of cases.
Wrongful death attorneys at Buchanan, Williams, and O'Brien are known for aggressive, zealous advocacy for their client's rights. The law firm has won millions of dollars and achieved great client results time and time again. You can rest assured that when you choose a BWO lawyer, you will have the entire team of Missouri lawyers and support staff on your side.
If you have lost a family member or a loved one, but aren't sure whether you have grounds for a wrongful death claim or not, our experienced wrongful death attorneys can help. We have represented clients throughout the United States and have convenient locations in Joplin, Carthage, as well as in St Louis, MO. We can meet you at a time and place that is convenient for you.
What Kind of Missouri Wrongful Death Damages Can You Recover?
The idea behind wrongful death claims is to seek monetary compensation for a wide range of losses that can provide financial security for surviving family members. Losses for damages that can be available in St Louis MO include:
Funeral expenses
Medical bills for injuries suffered between the time of injury and death
Pain and suffering experienced by the deceased person before death
Reasonable value of loss of companionship, guidance, comfort, and support the deceased person would have provided
While medical expenses and funeral costs can be easily calculated, non-economic damages are harder to quantify. For example, St Louis wrongful death attorneys may have to present the decedent's contribution to the family, the level of care they have provided, or their role in taking care of children.
Also, earnings the deceased person would have made, together with their life expectancy, work history, and earning capacity, are considered when assessing how much a wrongful death case may be worth.
Although there is no cap or an upper limit the law allows regarding financial compensation in a wrongful death case, there is a cap on what the plaintiff may get for a death resulting from a medical malpractice case.
How Much Is Your Wrongful Death Case Worth?
Anyone can be in the wrong place at the wrong time, which can result in fatal injuries. Spouses, children, parents, or other family members can be wrongful death victims. If you've experienced a family member's death in a fatal accident because of another's negligence or intentional acts, you may be able to recover compensation by filing a wrongful death lawsuit. Since every wrongful death case is unique, consulting with experienced wrongful death lawyers is crucial to determine how much your case may be worth.
Missouri law allows plaintiffs to get additional damages if "aggravating circumstances" existed in the defendant's behavior and it was considered dangerous with a high chance of resulting in someone else's death or injury. The goal of these damages is to somehow punish a defendant.
While no amount of money can make up for your loss or take away the pain, skilled wrongful death attorneys can help you recover from the financial burden you may experience after losing a loved one.
In St. Louis wrongful death cases, you will not owe us a dime unless we recover money for you. If you are looking for the best representation by the right wrongful death attorneys, contact us and schedule a consultation for your case. You'll get the proper legal advice, the right information, and the compensation you've deserved.
Get Expert Advice from St Louis Wrongful Death Attorney