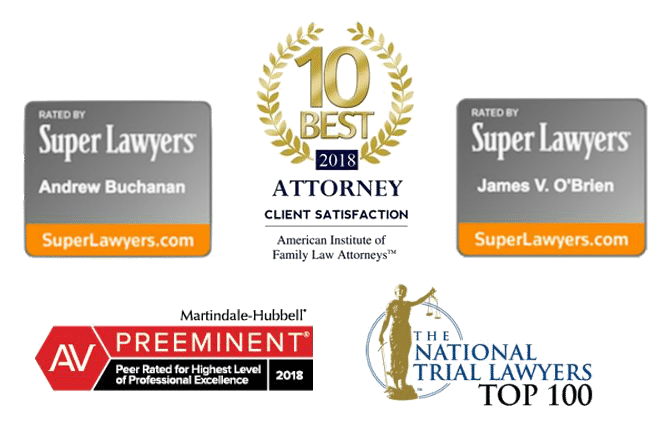 Missouri Uninsured Motorist Statute Specialists
An auto insurance lawyer may be helpful if you've been in an accident and are having trouble with your insurance company or the other party's insurer. Learn more here.
Buchanan, Williams & O'Brien have been a trusted law firm serving Missourians for over 40 years.
Committed to always treating clients with courtesy & respect
Benefit from the unrivaled experience of our statewide team of lawyers
Trust the proven success we've delivered to clients for decades
Missouri Uninsured Motorist Statute
Under the MO Uninsured Motorist Statute, drivers are required to maintain some form of motor vehicle liability insurance. Despite this, thousands of Missouri drivers find themselves involved in accidents with drivers with no insurance each year, causing unpaid damage claims and higher insurance premiums for all Missourians.
Missouri residents are required to show proof of insurance when registering a vehicle or renewing their license plates. Liability insurance covers you when your actions cause property damage or bodily injuries. You must always keep proof of insurance in your vehicle to present to a law enforcement officer if requested. If an officer asks you for proof of insurance and you do not have it, you may be issued a ticket. Then, the Department of Revenue will be notified that you are in Missouri driving without insurance. They can request proof of insurance at any time. Nonresidents should maintain insurance that conforms to the laws of their state.
If you have been issued a ticket for violating the MO Uninsured Motorist Statute, you must fight it to prevent hefty fines, a possible jail sentence, and the loss of your driving privilege. Alternatively, if you have been involved in an accident with an uninsured motorist, you will want to ensure that you receive the full compensation you deserve and are entitled to for any damage done to your vehicle or person. Regardless of the situation, the personal injury and traffic lawyers at Buchanan, Williams & O'Brien are here to help. Read on for more information about Missouri auto insurance laws or contact us to learn more about how we can help you.
Uninsured Motorist Coverage Missouri
You can meet the requirements of the Missouri insurance laws in three ways. For each type, you will always be given an insurance identification card to keep in the vehicle. (Most keep it in the vehicle's glovebox.) You must have one of the following to own or operate a motor vehicle:
A certificate of self-insurance for a company or religious organization issued by the Department of Revenue.
A vehicle liability insurance coverage that meets the minimum limits of "25/50/10." This can be obtained through any insurance agent.
Proof of financial responsibility.
Please note that it is illegal to operate a vehicle without liability insurance in Missouri. The driver must be able to show proof of insurance to an officer or a traffic ticket may be issued. Three things could occur if you fail to show proof of insurance:
The court may order supervision so the driver can be monitored to ensure vehicle liability insurance is being maintained.
The court may send the information to the Driver License Bureau where it will be entered on the driver's driving record. Four points will be assessed. Keep in mind it only takes eight points within eighteen months to lose driving privileges.
The court may issue an order suspending the driver's license for failing to show proof of insurance. The order is then sent to the Driver License Bureau and the driver is notified of the suspension of their license.
To avoid or mitigate these potential consequences, you should contact an attorney as soon as possible after being issued a traffic ticket for driving without insurance coverage. When you meet with our traffic ticket lawyers, we will offer legal advice and explore your options to protect your rights as a Missouri driver.
Confused about Uninsured Motorist Statute in Missouri? We can help.
What Does Uninsured Motorist Cover?
The minimum amount of coverage required by Missouri auto insurance law is:
$25,000 per person for bodily injury.
$50,000 per accident for bodily injury.
$10,000 per accident for property.
The law requires you to have uninsured motorist coverage of $25,000 for bodily injury per person and $50,000 per accident bodily injury. The statute also mandates that drivers carry $10,000 of Missouri uninsured motorist coverage for property damage. However, the full extent of someone's insurance coverage varies according to the value of their insurance policy.
Uninsured motorists' policies are meant to protect drivers if they are involved in hit-and-run accidents or in accidents that are caused by other uninsured motorists. Missouri drivers can also file an uninsured motorist insurance claim if the insured incurred bodily injuries.
If a driver that caused the accident doesn't carry insurance, the other driver involved in an accident has the right to file a claim against their own insurance company. The insurance company may ask for proof that the at-fault driver was, in fact, uninsured. Also, they may attempt to deny the claim or avoid paying. For example, if drivers involved in an accident don't have proof that another vehicle was involved, their claim may be denied.
But, uninsured motorist coverage can't protect you if you were the at-fault driver. If you have sustained injuries, other types of insurance coverage can help with your medical bills.
As part of Insurance Companies' Responsibilities and Penalties, insurance companies are licensed to provide personal motor vehicle insurance to Missouri drivers and are required to supply the Driver License Bureau with insurance information on the drivers and vehicles they insure.
Insurance companies must update their files before the seventh day of each month. This is used to determine the status of vehicle owners and operators. If you are having any issues with your insurance company, our attorneys can draw from their extensive car injury lawsuit experience to help you come to a favorable resolution.
What Does Uninsured Motorists Insurance Cover?
Although Missouri drivers are required to carry uninsured motorist coverage, some of them don't. If you find your driving privileges or license plates are suspended due to not having motor vehicle liability insurance, the following suspension periods will apply:
First Suspension = 0 Days
Second Suspension (Within Two Years) = 90 Days
Third and Subsequent Suspensions = 1 Year
After you serve your suspension without Uninsured Motorist Coverage Missouri, your driver's license and/or license plates can be reinstated with:
First Suspension

$20 Reinstatement Fee
Proof of Insurance
Second Suspension

$200 Reinstatement Fee
Proof of Insurance
Third and Subsequent Suspensions

$400 Reinstatement Fee
Proof of Insurance
Proof of insurance must be maintained and filed with the Missouri Department of Revenue for three years after a suspension has been served. During that time, if you fail to maintain proof of insurance, the Driver License Bureau will suspend your driver's license and/or license plates again. The suspension will remain in effect for the remainder of the three years unless you have proof of insurance and pay a $20 reinstatement fee.
What to Do in an Accident with Uninsured Motorist Missouri
If you are involved in an accident, you must stop. This is especially important because leaving the scene of an accident is a crime. The first thing you should do is move your vehicle if it will cause other drivers to have an accident. Otherwise, do not move your vehicle unless instructed to by law enforcement. These steps should be taken next:
Help anyone who is injured; do not move them.
Contact the police.
Warn traffic with flares, reflectors, or flashlights if it is night or bad weather.
Exchange information with everyone involved. This should include names, addresses, driver's license numbers, insurance company name, and insurance coverage policy numbers.
Do not leave until instructed by a law enforcement officer.
If you were injured in the accident, get immediate medical help and then contact a car accident attorney as soon as possible to begin collecting evidence.
You are required to report automobile accidents that happen to the Missouri Driver License Bureau if all of the following are true:
The accident happened less than a year ago.
The accident involved an uninsured motorist.
The accident caused property damage of more than $500.
Someone was injured or killed because of the accident.
The exception to this is you may file an accident report if the accident occurred with an uninsured motorist even if none of the rest is true.
Accident Involving an Underinsured Motorist
Underinsured motorist coverage protects drivers in cases where the driver at-fault for the crash doesn't carry enough insurance coverage. Since the driver at-fault is responsible for all the damages resulting from an accident, there may not be enough money to cover medical bills and other expenses.
If that is the case, underinsured motorist coverage may provide additional funds to cover all the damages. But, this type of insurance coverage is carried through your own insurance policy.
Underinsured motorist coverage is not mandatory under Missouri law, so many people don't realize it is available until they are involved in a crash. On top of that, the victim often has to prove to the insurance company that the at-fault driver was, in fact, underinsured.
Being involved in an accident with an uninsured or underinsured motorist can be complicated since the victims may have to collect from their own insurance company as well as the insurance company of the driver who caused the accident. Dealing with these matters can be tricky, so you may need to reach out to a knowledgeable attorney for formal legal advice or representation.
Is it worth it to sue an uninsured motorist following an accident? Primarily, it will depend on the driver's ability to pay. Therefore, it is a good idea to hire an experienced personal injury lawyer who can tell you if the defendant has the assets to cover your personal injuries. If you're wondering "Is Missouri a no fault state?", the answer is no, so you are entitled to file a claim with your own insurance if you were injured as a result of another driver's negligence. If you have your own uninsured motorist coverage, this should be your first resource, especially for compensation against an uninsured motorist.
The purpose of a lawsuit is to take you back to the condition you were before the accident. At Buchanan, Williams & O'Brien, our accident attorneys do not get paid until you do. Once we win, we will receive a percentage of your settlement, so you have nothing to lose by contacting us. Reach out to us today to find out more about how we can help you obtain the compensation you deserve.