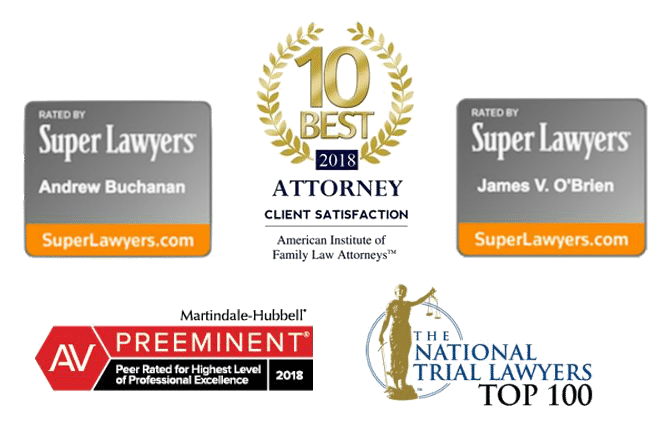 Missouri Motorcycle Accident Specialists
A Missouri motorbike accident lawyer may be helpful if you've been hurt in a bike accident that was not your fault. The attorneys at Buchanan, Williams, & O'Brien will fight for the compensation you deserve.
Buchanan, Williams & O'Brien have been a trusted law firm serving Missourians for over 40 years.
Committed to always treating clients with courtesy & respect
Benefit from the unrivaled experience of our statewide team of lawyers
Trust the proven success we've delivered to clients for decades
Motorcycle Accident Lawyer in Missouri
When you mount your bike, the last thing on your mind is hiring a Missouri accident lawyer. But the reality is these accidents happen more often than anyone would like.
In general, three-fourths of motorbike accidents in the greater St Louis, MO area involve a passenger vehicle, mainly due to the fact that other drivers may fail to see bikers. Plus, the likelihood of personal injury is extremely high. In multiple vehicle collisions, 98% caused damages to the motorcyclist, 45% of which were severe. This is partly because they are entirely exposed, unlike passengers within a car.
According to the statistic of the Missouri State Highway Patrol, on average, a fatal motorbike accident happens every four days in this state.
If you have been involved in the St Louis motorcycle accident, or in the collision that happened in another MO area, you should reach out to an experienced attorney, such as those at the law firm of Buchanan, Williams, & O'Brien. They will provide information and investigate to determine the best method to resolve your case.
Bike accidents frequently lead to an injury requiring the assistance of accident lawyers. In a motorcycle crash, often, the rider is ejected from his or her seat with an incredible force, which can result in damage to the head and neck. The most common result is a road rash caused by the skin scraping across the roadway. Other typical injuries include:
Broken bones
Contusions
Fractures
Although these consequences to the accident cause pain and suffering, they are not debilitating or permanent. Other, more serious injuries include the following:
Paralysis
Spinal Cord injuries
Traumatic brain injuries
MO motorbike accident attorneys are essential when a victim has sustained personal injury or significant damage to his or her property. You may face expensive damages, including medical costs, loss of earnings, and the funds to repair or replace the bike.
There are laws and guidelines specific to these types of accidents, so make sure you hire ideal representation for your case. Vehicular accidents that result in an injury can considerably change the lives of the victims and their families. In addition to physical pain and suffering, they often experience psychological damages, as well. Reach out to a MO auto accident attorneys to get help with your claim.
Confused about MO motorbike accidents? Let us answer your questions.
Although many actions can result in motorbike crashes, most occur due to the negligence of another driver. Car and truck drivers fail to pay sufficient attention and overlook motorcyclists leading to potentially catastrophic events. Some of the prevalent factors are:
Driving while distracted
Driving while under the influence
Failure to observe turn signals
Failure to use turn signals
Failure to yield the right of way
Inexperienced drivers
Riding without a helmet
Speeding
What should you do after an accident, especially if you have sustained injuries? Start by collecting as many details regarding the incident and any injuries as possible. Gather the contact information of the other drivers and any witnesses. Notify the local authorities about the event so that a police officer can take pictures of the damage, collect pertinent evidence, and make a report. If you or someone else is hurt, call 911 for immediate medical assistance. Then contact a skilled MO attorney to help you get medical compensation for your car accident injuries.
Lawyers that deal with motorcycle crashes will be able to describe the complexities of Missouri Revised Statutes § 537.055 in a way that aids your understanding of your rights. Missouri is a comparative fault state. This means that liability is shared among the parties involved in the collision. The percentage of the costs you are responsible for depends on your portion of guilt.
Generally, if you were riding a motorbike at the time of the accident, your assessed liability is increased if you were speeding, riding without a helmet, or were otherwise acting irresponsibly. A civil court will likely assign part of the blame to you, which would reduce the amount of your settlement. Hire an MO motorcycle crash attorney, who will fight for your adequate compensation.
Motorcycle Accident Injury Lawyer
Working with an injury lawyer after your motorbike collision can help you navigate the complex issues to arrive at a favorable resolution. These cases generally require considerable evaluation, especially if there are numerous drivers at fault. Along with the biker and other motorists, this may include the car or motorbike manufacturers, and those responsible for maintaining the roads.
You can decide to sue the other party if it is determined that you are less than fifty percent liable for the accident. Some of the costs you may be granted include:
Compensation of current and future medical bills and treatment
Pain and suffering
Reimbursement of present and future lost income
Repairs or replacement of your motorbike and other property
Depending upon the details surrounding the mishap, you may need to consult criminal lawyers, especially if you were riding while intoxicated or engaged in illegal activities at the time of the accident. Motorcycle accident lawyers such as Buchanan, Williams, & O'Brien, can offer comprehensive counsel in a difficult and challenging time.
Fatal Missouri Motorcycle Accidents
Since they are substantially smaller than other vehicles on the road and those riding on the bike are completely exposed, a fatal motorcycle crash in a state of Missouri is an extremely likely outcome in a collision with another driver. In fact, the chance of accident victims dying in these crashes is 30 times higher than drivers of other types of vehicles. If a loved one died as a result of a motorbike collision, you should retain an experienced lawyer to ensure you receive the compensation you deserve. Although it does not erase the incident, the right law firm can ease your stress by negotiating with insurance companies and representing your case as you begin the healing process.
If you or your loved one has actually been injured or even killed in a motorbike mishap, you need to seek advice from a law office like BWO to get adequate compensation for your case. Contact them today for a free consultation.
Get expert help from experienced MO personal injury lawyers.