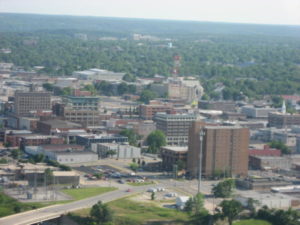 At Buchanan, Williams & O'Brien, community involvement is a cornerstone of our values. In March, we enjoyed partnering with two amazing organizations to support members of the Joplin community.
First off was our partnership with Soroptimist International of Joplin for their 4th Annual Comedy for Camp event. This global organization works to socially and economically empower women and girls.
The Joplin Comedy for Camp event, in particular, raises money to send foster children to summer camp. It was a fun event including a silent auction and a comedy show. The event raised approximately $15,000. Spectacular job, Joplin!! We were honored to have been a part of it.
Our second community event in March was The Baseball Bonanza, put on by Joplin NALA Read. Joplin NALA Read is a non-profit committed to fostering and strengthening literacy skills, enabling learners to reach their full potential.
The Baseball Bonanza, formerly known as the All-Star Spell Ball, raises awareness of adult literacy through a fun competition. Locals organize themselves into teams and compete in a game that combines spelling and baseball. BWO sponsored Joplin NALA Read's Baseball Bonanza which raised approximately $7,000 this year. Thank you to all who participated!
Finally, BWO was pleased to take part in the 2019 Fur Ball, Boots and Bling Gala hosted by the Joplin Humane Society Animal Adoption & Resource Center. BWO donated some relaxation items from Savon and a $50 gift card from Good Dog Healthy Pet Market in Webb City, Missouri.
Joining in events like these is really rewarding for those of us at BWO. In addition to being here for all Joplin's personal injury lawyer needs, we are happy to be a part of these community events, and it inspires us to see what our community can do when it comes together!
Interested in Joplin, MO? Learn more!
Interstate 44, Interstate 49, and also Historic Route 66 come together in the up and coming town of Joplin, Missouri. "JoMo" as it is known keeps a reasonable cost of living along with major bang-for-your-buck as prices skyrocket elsewhere. Joplin has a thriving downtown area filled with musicians, innovative chefs, and also entrepreneurs who are putting a fresh spin on this historic city.
Joplin, located in the southwestern corner of the state of Missouri, is partially within southern Jasper County as well as in north Newton County. Joplin is the largest city in the Jasper County region, though it is not the area seat. As of the 2010 demographics, the city population was 50,150. In 2010, the bordering Metropolitan Statistical Area had an approximated population of 175,518.
Although typically thought to have actually been named for the jazz musician and composer Scott Joplin, who stayed in Sedalia, Missouri, the city of Joplin is actually named for Reverend Harris Joplin. Reverend Joplin was an early inhabitant and the founder of the location's very first Methodist congregation. Joplin was developed in 1873 and grew significantly from the mining of zinc in the area; its growth faltered after World War II when the zinc industry collapsed.
The city has always received travelers since Route 66 passes through it. In fact, "Joplin, Missouri" is among the lyrics to Bobby Troup's fabulous track, commemorating the city among others on the renowned highway.
About the BWO Firm in Joplin
At BWO, we have more than 40 years of experience helping individuals who have been injured by the neglect or wrongdoing of others. Get in touch with Buchanan, Williams & O' Brien today, and we can help you do something about it if you or a loved one has been injured through someone else's neglect.
You deserve to work with somebody you can trust to defend your civil liberties. We are aggressive, compassionate advocates for our clients' legal rights, and we work hard to attain the most beneficial results possible. We have the experience as well as resources to take your case to court if it is necessary. Whether you were injured at work, in public, or due to medical malpractice, we can help.
BWO has the experience you require to get the personal injury outcomes you want. Missouri is the Show-Me State, where activities speak louder than words. In the spirit of the Show-Me State, you will not owe us a penny unless we recoup damages for you. And we can come to you; hospital and also home visits are offered. Contact us today- you have nothing to lose.