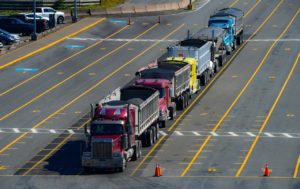 Our client was a truck driver who was injured when an air ride seat collapsed and smashed her foot when the vehicle hit a pothole. The final settlement in this injured trucker case amounted to over $1 million dollars.
Our attorneys have years of knowledge and expertise in protecting our truckers rights in many different personal injury cases. We have assisted wounded individuals for over 40 decades. Buchanan, Williams & O'Brien has won millions of dollars in personal injury cases and obtained great customer results again and again. Dependent on the achievement of the Joplin office, the company has grown to a regional law firm with offices in St. Louis and Springfield, also.
As a result of the air ride seat collapse, she developed a serious condition known as reflex sympathetic dystrophy (RSDS).  Excessive or abnormal reactions of parts of the sympathetic nervous system are considered to cause the pain associated with reflex sympathetic dystrophy syndrome.
The signs of reflex sympathetic dystrophy syndrome usually start with burning pain, particularly in an arm, finger(s), the palm of their hand(s), or shoulder(s). In certain people, RSDS may happen in one or both legs or it might be localized to a single knee or hip. Often, RSDS can be treated as a debilitating nerve injury. The skin over the affected region (s) can become swollen (edema) and inflamed. Affected skin might be extremely sensitive to touch and too cold or hot temperatures (cutaneous hypersensitivity).
We took numerous depositions, hired experts, and prepared the case for trial. Just before trial, the manufacturer settled the case and agreed to pay over $1 million.
Along with work-related deaths, truckers are somewhat more likely than the normal U.S. employee to become injured or ill at work.
Employees across all U.S. personal – and public-sector businesses in 2016 continued work-related injuries or ailments in the speed of 3.2 per 100 full-time workers, based on independent Bureau of Labor statistics on nonfatal occupational injuries and disorders released last month. By comparison, long-haul truckers continued work-related injuries or disorders at the speed of 4.4 per 100 fulltime workers. In 2016, regional motorists were hurt or got sick in the speed of 3.7 per 100, and moving van drivers at the maximum speed: 7.6.
Work-related injuries and disorders led long-haul truckers to remove a cumulative 47,560 times from work in 2016, according to the Bureau of Labor.
If a loved one is hurt, it may feel as though you're all alone at the task to get back to your feet. We'll help you manage the pressure from insurance adjusters and charge collectors, provide expert advice and to make certain you're treated fairly during the procedure. We possess an established history of over 40 years focusing on behalf of hurt individuals in Missouri and are all set to offer the exact same results-oriented support to you.
We all know from experience that hurt customers are usually forced into unemployment and also don't have insurance. We can assist you with these issues and at times arrange for payment of medical bills from your settlement proceeds.
It is our commitment you will always be treated with respect and courtesy rather than feel pressured. For 40+ years today, BWO attorneys have committed itself to help our customers in every way we could, however large or small the problem could be. BWO has the commitment to its customers, the expertise, and the demonstrated results that will help you now!