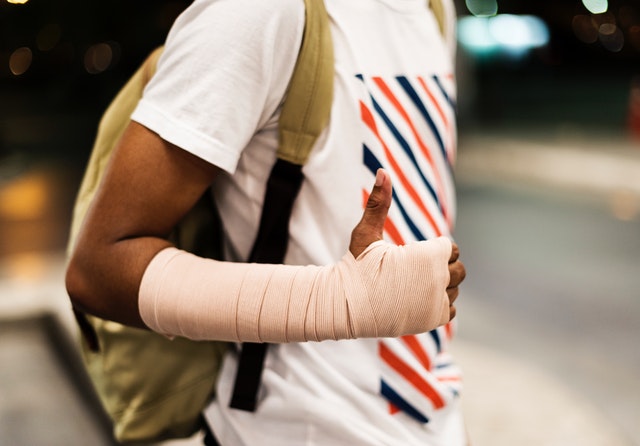 Just this month, we were able to get a slip and fall accident settlement for our client, Sheryl. Sheryl is a personal injury client from a slip and fall accident. This is what Sheryl had to say about her experience with our law firm:
"I was injured in a large retail store because the retail store had a pallet near the entrance that was broken. A broken shard of the pallet caught my shoe and I tripped and fell. Even though I was lucky to put my hand up so that I didn't fall face first into the floor, my wrist was severely injured because it took the brunt of the fall. I also hurt my knee and foot. I went to the hospital immediately afterward and got treatment. I continued to get treatment for my injuries and ultimately had to have wrist surgery called de Quervain's tenosynovitis surgery. The retail store refused to pay my medical bills or offer anything for what they had done."
The CDC outlines two types of slip and fall accidents: raised falls and also same-level falls. Same-level falls are very common as well, which means they cause even more injuries to even more people Raised falls are less common but they also create more extreme injuries because the stakes are higher. Over 60 percent of all raised falls is from an elevation of much less than 10 feet. Even though this is not a large height, the resulting injuries can be terribly damaging.
Slips can take place when floors or other walking surface areas come to be unsafe due to wet or oily procedures. Sadly, most of this can be prevented by the company taking proper measures to ensure the safety of their workspace. This consists of floor cleaning, fixing leakages, or clearing debris left in walkways like in this case. Uneven flooring or functioning surfaces can cause trips as well. This may consist of sticking out nails and boards, bunched flooring mats or irregular carpeting, holes or anxieties in working surfaces, as well as likewise step-risers on stairs that are not uniform in height. With premises liability law, property owners may be held accountable for injuries that happen on their home, such as slides and also drops.
The responsibility of the company does not end with making sure the floors are dry or other routine items. Negligence via security, malfunctioning elevators, and even infected food can all create a dangerous work environment. The issue of obligation happens when the person is hurt from these situations. Facilities liability enters play once more with owners or managers who are required to make sure the correct safety and security of the location and also guard the structure against hazardous problems. When they are not able to do so, a case can lead to responsibility as well as the need to make up the sufferer.
"If I had not hired Buchanan, Williams& O'Brien, I probably wouldn't have achieved a dime and I would have had to pay off my own medical bills. I hired BWO and they pushed the case forward. Thanks to BWO, I was able to get a fair settlement that left me with a good amount of money after my medical bills were paid off. They always let me know what was going on in my case. Plus, they even prepared some legal documents that I needed for free just because I was a valued client. BWO earned my trust and I appreciate all the help they gave me and my family."
Slip and fall mishaps occur every day in the United States as well as cost employees, employers, and taxpayers millions in lost salaries, clinical expenses, and legal expenses. Regretfully, the biggest portion of slip and fall injury victims are composed of senior citizens. The resulting injuries from a slip and fall accident can be uncomfortable and irreversible for anyone but are particularly impactful on seniors.
Injury sufferers need to seek legal advice as well as review their scenario with a seasoned injury lawyer that can assist the victim figure out whether they are entitled to payment and can additionally take the required steps to move the insurance claims process forward. BWO has over 40 years of experience helping clients which this exact process.
For private property areas, a claim might be submitted against the owner if a number of situations including an abnormal buildup of snow or ice creates a slip as well as loss. If an individual is hurt on the personal property while a visitor in the home, obligation might lie when the property owner failed to inform the guest of a well-known risk that the visitor was not aware of.
Clients like Sheryl make our job easy. If you have been hurt or injured, call us now! When damages are continual, it is feasible to file a claim against greater than one person. These issues develop when special conditions occur. As an example, if a worker is harmed while on an onsite task, she or he may be eligible to get workers' settlement advantages. Nonetheless, he or she might likewise have the ability to file a separate civil insurance claim against the building owner if she or he was responsible for the structure's maintenance.
Don't let someone else's negligence and carelessness trample your rights. We can help you with any type of personal injury in Joplin, Springfield, St. Louis, Springfield, Jefferson City, Columbia, Kansas City, Monett, St. Joseph, Cassville, Cape Girardeau. Anywhere, anytime!